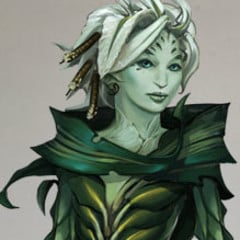 Kristen Perry
Art Direction. Concept Art. 3D Modeling. Mentor.
Seattle, United States
Summary
Art Direction. Concept Art. 3D Modeling. Mentoring.
Accomplished, lead artist and designer with 17+ years of experience solving art problems and creating fresh new visual language systems; shipping games of the highest aesthetic integrity through budgets ranging from modest to marvelous. Avid passion for designing compelling styles and content while identifying, streamlining and balancing the needs of an efficient production pipeline from beginning to beyond ship. Dedicated to working with cross-disciplined teams to create effective, forward-thinking games that everyone loves to play. Broad range of experience handling all aspects from game to merchandising.
Worked on a dozen AAA titles, thoroughly spanning the entire development process from pre-production to shipped final for 7 games.
Skills
Art Direction
Concept Art
Concept Design
Character Design
Character Modeling
3D Modeling
Digital Painting
Digital Sculpting
Vector Illustration
Illustration
Software proficiency
Productions
Video Game

Guild Wars: Eye of the North

Year

2007

Role

Character Artist, Concept Artist

Company

ArenaNet

Video Game

Team Fortress II

Year

2007

Role

Pre-Production Artist

Company

VALVe

Video Game

Day of Defeat: Source

Year

2005

Role

Artist

Company

VALVe

Video Game

Half-Life 2

Year

2004

Role

Artist

Company

VALVe